The Cardiff-based Artes Mundi prize returns for 2019 with a powerful shortlist. The biennial award celebrates international contemporary artists who engage with social reality and lived experience. This year's six nominees express diverse global narratives, encouraging meaningful thought on today's key questions. As Nigel Prince, Director, notes: "In prompting us to critically reflect on what it means to exist in this world in all its complexity, their practices speak to and engage with some of the most urgent issues of our time."
Influential American artist Carrie Mae Weems (b. 1953) is recognised, whose multidisciplinary practice spans photographs, text, installation, audio and video. These works – including the seminal Kitchen Table Series (1996, shown here) – investigate family relationships and cultural identity. Weems articulates multidimensional American black experiences whilst questioning the internalised racism of her home country: sexism, class, political systems and the consequences of power come to the forefront.
Dominican Republic-born, New York-based Firelei Báez (b. 1981) focuses on wide-ranging Diaspora narratives – addressing questions surrounding migration and female identities. The work challenges culturally predetermined ethnic stereotypes, featuring strong female protagonists. Symbolic motifs are incorporated into bright paintings: lavish textiles and wall coverings collide with colonial-era florals, hair textures and beaded jewellery. Gender, race and sexuality are further explored through South African artist Dineo Seshee Bopape (b. 1981). Commonplace materials such as soil, bricks and timber are set against archival images and sound – resulting in powerful large-scale installations that visualise intimate and collective memories.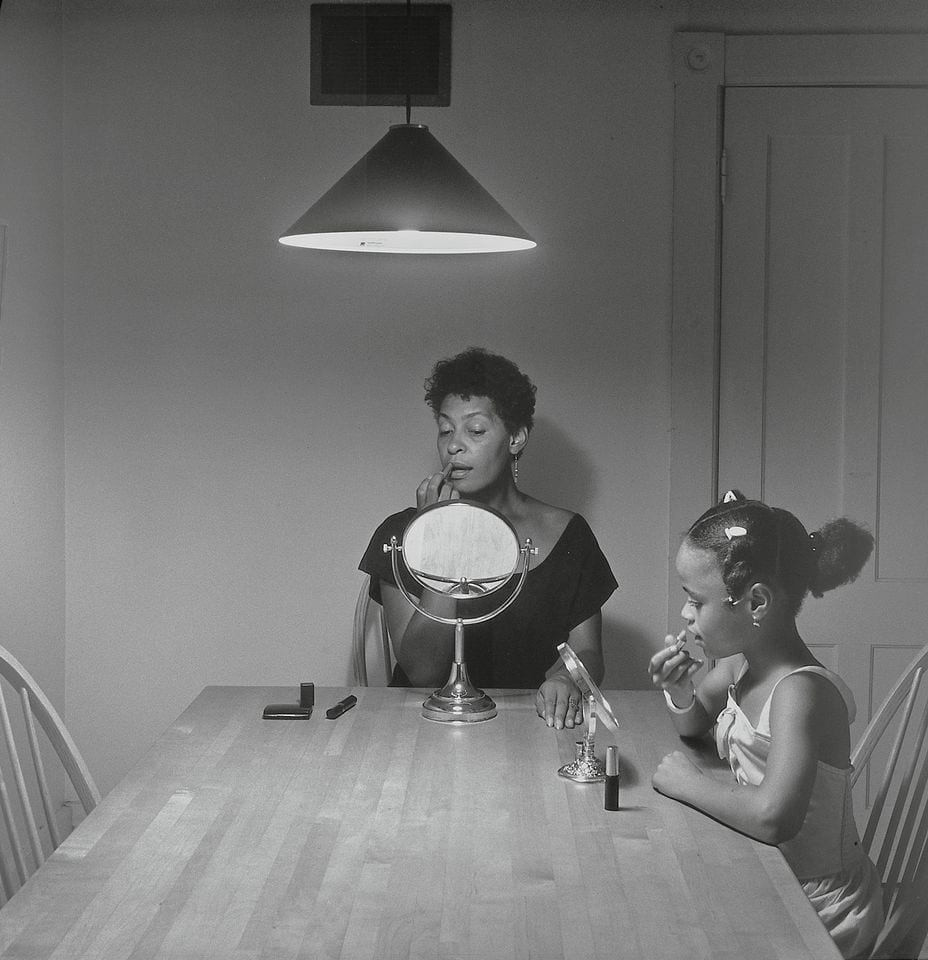 Place is a cornerstone of this year's shortlist. Chandrapur in India is known as 'the city of black gold', due to its large number of surrounding coal mines. Prabhakar Pachpute's (b. 1986) charcoal drawings and animations respond to working conditions of relentless excavation, incorporating surreal, hybrid combinations of figures and machines to comment on issues of labour. The son of a coal miner, Pachpute connects personal stories to wider economic, societal and environmental changes.
Cultural heritage plays a key role in Beatriz Santiago Muñoz's (b. 1972) films, which explore the social and political conditions of her native Puerto Rico and the Caribbean. They are the result of long periods of observation and research into the redevelopment and gentrification of the region, and its impact on local communities. Video and performance are also the chosen media of Meiro Koizumi (b. 1976), who looks at the boundaries between the private and the public in relation to Japanese identities. Filled with tension, works such as the 2019 Battlelands investigate the psychological dimension of war through the lens of five US combat veterans from Iraq and Afghanistan.
The winner will be announced in January 2021 during a four-month exhibition from October 2020 to February 2021 at National Museum Cardiff. Find out more here.
Lead image: "Untitled (Man reading newspaper)" © Carrie Mae Weems. Courtesy of the artist and Jack Shainman Gallery, New York.