We are delighted to present the Judging Panel for the Aesthetica Art Prize 2016. The panel comprises influential art figures, including curators, directors and artists whose expertise span all media.
---
Cherie Federico
Co-founder & Managing Director of Aesthetica
Cherie Federico is the Editor of Aesthetica Magazine and the Director of the Aesthetica Art Prize. Originally from New York, Cherie moved to the UK in 2002 to study for her Masters Degree and since then has developed Aesthetica into an international brand alongside the Aesthetica Short Film Festival and the Creative Writing Award. Cherie is delighted about this year's Aesthetica Art Prize and is passionate about artists who are pushing boundaries and creating innovative works; those that inspire discussion, surrounding form or content, and speak about the world in which we live. Click here to view a film with Cherie speaking about 2014's selected Aesthetica Art Prize artists.

Clare Lilley
Director of Programme at Yorkshire Sculpture Park
Committed to engaging diverse audiences in extraordinary art and to extending artists' practice and opportunities, recent projects at Yorkshire Sculpture Park include Ai Weiwei, Fiona Banner, Amar Kanwar, Shirin Neshat, Yinka Shonibare, and James Turrell. Clare curated Frieze Sculpture Park, London 2012-15 and Jaume Plensa at San Giorgio Maggiore for the 2015 Venice Biennale. Clare sits on the Government Art Collection Advisory Committee and the Perrier-Jouet Arts Salon. She is a Trustee of Site, Sheffield and has presented papers internationally, including The China Museum in Beijing; Z33 Belgium; and the Kyiv Sculpture Project.

John Keane
Artist, Aesthetica Art Prize Winner 2015
John Keane came to national prominence in 1991 when he was appointed as official British war artist during the Gulf War. His work has always been deeply concerned with conflict – military, political and social – in Britain and around the world, sometimes working with organisations such as Greenpeace and Christian Aid. More recent subject matter has addressed difficult topics relating to religiously inspired terrorism such as Guantanamo Bay, the Moscow theatre siege, and home-grown acts of violence against civilians. In recent years he has also become known for commissioned portraits of notable individuals such as Mo Mowlam, John Snow and Kofi Annan.

Whitney Hintz
Independent Advisor and Curator of the Hiscox Collection
The Hiscox Collection comprises approximately 600 works on display across the company's 30 offices in the UK, Europe and USA. In addition to overseeing the Hiscox Collection and advising private clients, Whitney is a board member of the Crossrail Arts Programme and Sculpture in the City, an annual outdoor public sculpture exhibition located within the City of London's Square Mile. She is also a consultant for the Kenneth Armitage and Eduardo Paolozzi Foundations, and was previously Associate Director at Frith Street Gallery where she worked on projects at Venice Biennale and Tate Britain.

Alex Newson
Senior Curator at Design Museum
Joining the Design Museum in 2009, Alex is responsible for curating original and international touring exhibitions, assisting with educational events, collections development and overseeing the museum's interpretation strategy. He has curated numerous exhibitions including Designs of the Year, a retrospective on designer Dieter Rams, and a project to curate and reinstall the Design Museum's permanent collection, making it available to the public for the first time in five years. Most recently he curated The Future is Here: A New Industrial Revolution, an award-winning exploration of digital fabrication and its influence on design and manufacturing.

Karin Askham
Dean of the School of Media, London College of Communication, University of the Arts London
Karin's portfolio extends from undergraduate to postgraduate courses in photography, sound arts, film and television, media theory, journalism, PR and publishing. Karin's extensive teaching career has built on experimental approaches to the notions of the "staged moment" and culminated in the founding of the first BA and MA in Fashion Photography courses. Karin's practice as a photographer has resulted in her work being exhibited nationally and internationally, and her earlier photographic work has been featured on record covers and numerous publications.

Sophie Raikes
Assistant Curator (Collections) at the Henry Moore Institute
Sophie Raikes is Assistant Curator (Collections) at the Henry Moore Institute, Leeds, where she manages the sculpture collections of Leeds Museums and Galleries and curates exhibitions and displays relating to this area. She is concurrently studying for a PhD focusing on exhibition practices at the Henry Moore Sculpture Studio at Dean Clough, Halifax (1989 – 2000).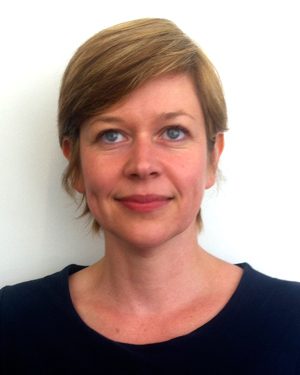 Dr Sam Lackey
Curator at The Hepworth Wakefield
Dr Sam Lackey's original specialism is in Surrealist film. She worked as a Senior Research Fellow in the Centre for Studies in Surrealism and its Legacies before moving into curating, firstly at the Whitworth Art Gallery on the exhibition Subversive Spaces: Surrealism and Contemporary Art and then at The Hepworth Wakefield in 2010 as part of the team that opened the gallery in 2011. She works across all aspects of the collections and exhibitions programme, and is currently researching plasters and prototypes from traditional casting to contemporary artists' use of the material. She has published on surrealist film, theories of attention in film and the role of the body in moving image work.
Phillip Prodger
Head of Photographs at the National Portrait Gallery
Phillip Prodger, Ph.D. (Cantab.) is Head of Photographs at the National Portrait Gallery, London, overseeing acquisitions, research, loan and display of photographs from the 19th century to the present. Phillip has held several curatorial posts including at the Saint Louis Art Museum, the National Gallery of Canada, and the Peabody Essex Museum, where he was founding Curator of Photography. Curator of numerous exhibitions worldwide and the author of fourteen books and catalogues, Phillip is currently organising an exhibition about the portraits of William Eggleston.

---